Straight forward water filtration
Posted by Mack Partin on Feb 22nd 2023
If you are interested in making sure that your drinking water has less contaminants and having the best tasting water for drinking and cooking, you may be wondering where to start looking. The first step is to get your water tested. Having a lab determine what is in your water will help you make a decision about what filter is best for you based on your treatment needs. The Everpure H-300 Water Filter is usually a safe bet though. It offers substance reduction in
Lead
Chlorine taste & odor
Volatile Organic Chemicals (VOCs), including THMs
NSF/ANSI Standard 53 certified to reduce cysts such as Cryptosporidium and Giardia by mechanical means
Reduces particles as small as 0.5 micron in size by mechanical means
Dirt and cloudiness*
Mold and algae* *As tested by Everpure, LLC.
The Everpure H-300 has achieved this with exclusive precoat filtration technology combines Micro-Pure® and a unique pleated filter membrane. This highly engineered design provides a large filtering surface area, longer filter life, and consistent performance. The Micro-Pure filter material reduces contaminants commonly found in tap water while retaining vital minerals found in water to give a clean, crisp taste. This makes the Everpure H-300 Water Filter the clear choice in restaurants for their guest and you are able to have the same great tasting water in your home. The EverPure EV927070 H-300 Drinking Water System is easily installed under your sink and comes with built in shut offs. This allows for simple, mess free, easier cartridge changes. The replacement cartridge, Everpure EV9270-72 H-300 Water Filtration Replacement Cartridge, can filter up to 300 gallons of water at a controlled flow rate of 0.5 gallons per minute. Usually, a cartridge last around 6 months to a year depending on usage. Our bundle Everpure EV9270-72 H-300 Water Filtration Replacement Cartridge 2 Pack is a great way to make sure you have a replacement filter and back up filter.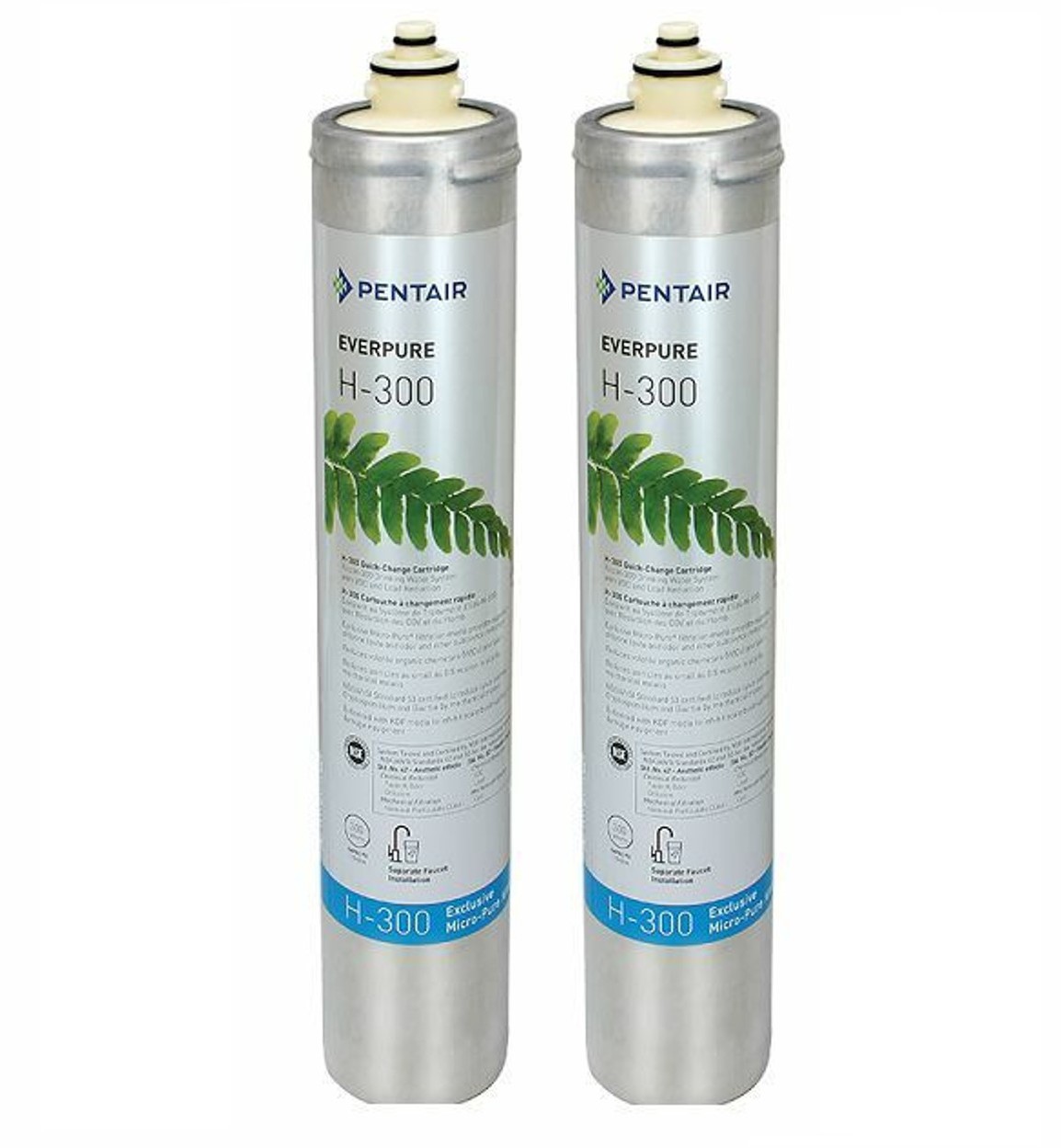 It will require a separate drinking water faucet. It is compatible with a wide variety of cold-water dispensers thanks to ¼" poly tubing connection that is common for most drinking water faucets. The Everpure EV9270 drinking water system needs to be maintained according to the manufacturer's instructions, including the replacement of filter cartridges. With simple installation, easy maintenance and performance that will be as clear as your water with the Everpure H-300 it's a clear winner for your drinking water. If you have any questions contact us.