A quick look at rough-in valves
Posted by Mack Partin on Mar 1st 2023
We recently had a customer reach out and ask for some help with some selections for a full bathroom remodel. He was not a rookie when it came to home improvement projects, and he certainly had a lot of information from previous projects. Even with all that experience, he still had some questions about what rough in valves to choose for his project. I will run through some of the decision-making process for picking out rough-in valves and cover some basics as well.
Our customer already had a clear idea of what style he was interested in, he was looking for a more modern bathroom to match the décor of the rest of his home. He and his wife both loved the look of a Delta Trinsic floor mounted tub filler in matte black . I am going to use Delta as an example, but this information will work with a majority of manufactures( Hansgrohe, Brizo, Grohe, Kohler, Moen and more) in the plumbing world. The Delta Trinsic T4759 has two options for rough-in valves, the Delta R4700-FL Floor Mount Tub Filler and the Delta R4700-FLWS Floor Mount Tub Filler - Rough with Stops . Both valves do the same thing, supply water to the faucet. The R4700-FLWS just comes with built in stops or shut offs, that turn the water off specifically to that fixture. I normally recommend installing rough ins with stops in areas that are had to access. If the bathroom has its own isolation valves, then using the R4700-FL would work well for installation. Our customer knows he already has shut off valves installed for the water lines going to the tub filler that he can reach in the basement, so we ended up choosing the Delta R4700-FL Floor Mount Tub Filler . His shower fixtures ended up being on a wall that has a toilet right on the other side of it. With this wall being all tile inside of the shower and drywall on the opposite side, we needed a different solution. The customers shower has two different fixtures, an overhead raincan shower head and a hand shower . I recommended a R22000-WS MultiChoice Universal Integrated Shower Diverter Rough In as it give him the ability to turn the water off to the valve right behind the trim plate for easy service. No need to install an access panel on the drywalled wall, keeping a modern and clean esthetic.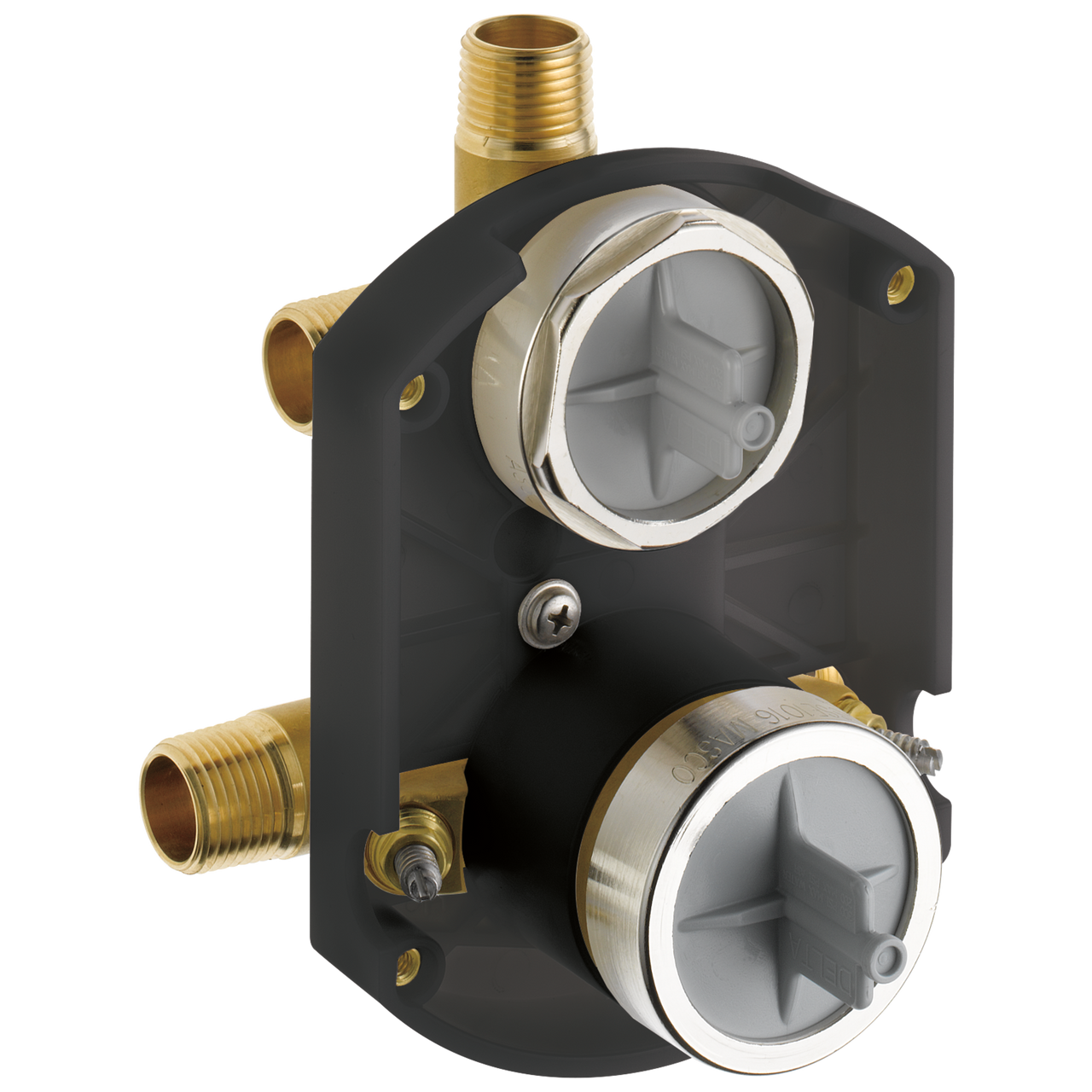 What is a rough in valve?
Rough-in valves are designed to be installed before the finished walls, tile, or flooring are all complete. The valve will be in a wall or under the floor, secured to studs or floor joist, that allows hot and cold water to be mixed and come out of a plumbing fixture. Rough-in valves are designed to be installed before the finished walls, tile, or flooring are all set. The trim or the shinney parts of the faucet that we use every day, pops right on the exposed parts of the rough-in valve completing the fixture. This allows a plumber or a handy homeowner to be able to service a faucet with new cartridges or even to upgrade the trim in the future.
What rough in valve should I choose?
I usually recommend finding a faucet you like the look of and working backwards. This way you can ensure that you get the correct rough-in valve for the shower or tub filler you want. Every manufacturer will make their own rough-in valve that is specific to their line of plumbing fixtures. As always, if you have any questions, please contact us.